Outstanding litter of AKC yellow Labrador puppies born April 3rd. 3 puppies still available!!!
Sire is HRCH Tr's Rumbling To The Finish "Rum". Rum is OFA Good, Elbows Normal, CERF Clear, CNM Clear and EIC Clear. Rum is hard charging. Rum's pedigree is one of the strongest you will find. Rum's owner plans to start running Master hunt tests with him this summer and fall.

Dam is Timber Creek's Once In A Blue Moon "Luna". Luna is OFA Good, Elbows Normal, CERF Clear, CNM Clear, and EIC Clear. Luna is an outstanding marker. She is very alert but calm in the blind. She handles like a dream. She is very calm inside and with kids but is a ball of energy when she sees a splash.
Pups will be raised in our home and will be well socialized. They will be introduced to birds, water, gunfire and children. They will have all de-worming treatments and have first shots – all will be vet-administered. This will be a great litter. Please let us know if you are interested, so we can hold one for you. Pups will be ready to go home mid May.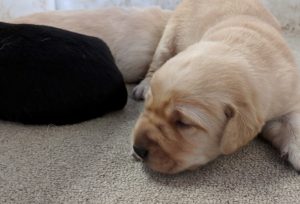 Timber Creek breeds top-quality Labrador Retrievers that are fantastic for hunting companions or family pets. We offer pups from the finest lines available. Getting a nicely-bred pup insures a healthy companion that is eager to learn and trainable. All Timber Creek pups have documentation to be clear of any genetic issues. All lab puppies come with a written health warranty guaranteeing their status. Pups are raised in our home and are well-socialized. They are exposed to children, other dogs, gunfire, and birds as they grow.
Dewclaws are removed at three days of age and deworming treatments are given at 2, 4, and 6-weeks old. Pups are available after 6-weeks shots are given (all vet-administered). All pups are sold with full written guarantees for OFA and eye qualification.
Upcoming / Current Litters – link on page Shipping – Delta cargo link deltacargo.com
While we have bred and worked with Labradors for multiple generations, we are not high-volume breeders. We may not have a pup available during the timeframe you need. In that case, we are happy to help you find a pup elsewhere. We have lots of contacts and can locate a pup for you, of any breed. Like Labradors, many breeds have their own genetic or health-related issues that need to be checked when finding a pup. We can guide you through the process to help make sure you find a great new family member.